I am participating in a link-up over at
The Journey of Parenthood
and you should too!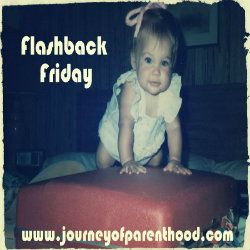 SO, our engagment. Hmmm...it feels like so long ago. It was September 13, 2007. It was a Thursday night and we went to eat at Olive Garden. There were flowers on the table and candles, which I totally did not notice! Poor guy, he tried. We ate and then after we were done, the waitress brought over a large-ish wrapped package. It was a gift from Chris for me. It was so big I was totally not thinking it was a ring. And I was right :) It wasn't a ring. It was a beautiful bible that had my future name on it. I saw it and looked up with total shock on my face and there he was, holding a wee square box with a diamond in it. I have no idea what I said or did after that. Well, I know I gave an affirmative answer and all that, but that's all I got :)
All the waitresses came over and fawned over the ring (girls will be girls!). There was group of Red Hat Ladies eating in the other room who caught wind of what was going on so they bought our entire dinner (including drinks and dessert so it was probably kind of expensive). We called our parents. At the time I was living with one of my best friends (well, 2 of my best friends if you count her husband) and they were waiting up on us so they could see the ring.
Inside the Bible, Chris had written these words:
Presented to Meghan, the love of my life, on the day of our engagement September 13, 2007. May these words of God ever be the foundation under our lives and the bond between our hearts. I love you always, Chris
Isn't that beautiful? I debated about not using the Bible, but I thought even if something happens to it, I want it to get used, I want it to be lived in. I am so glad it is not sitting on a shelf somewhere "safe". I love it so much. The Bible is covered in kangaroo leather and has my initials embossed on it. He found someone online who does that kind of thing and I really do cherish it.
This is probably my favorite pic from the night.
It shows us how we were back then-silly and carefree and in love :)